Unleashing Maximum Horsepower and Performance
Here is the start of the ultimate race-repped RZ. The picture above is the one that Keith Powell has been racing for the last 2 years at AHRMA-sanctioned races in Next Generation Lightweight Superbike. The rule base keeps the engine and chassis format to be very close to stock. This allows us to do everything inside the engine as long as it is no more than 65.5 mm overbore, stock stroke, OEM RZ, or OEM Yamaha Banshee cylinders. We ran the Banshee cylinders last year, but I have decided to use the RZ cylinder, so I can develop the most horsepower while using the stock cylinder. This allows me to showcase the maximum horsepower gains that can be achieved. So far, I have made it to 94.8 rear wheel horsepower, and with the newest technology, our goal is to be around 110 or more. This will take some time, but I feel that it can be achieved.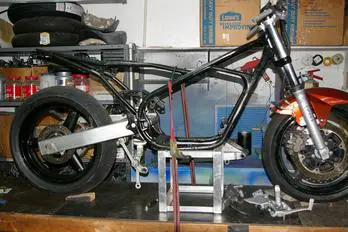 Here is the start of the chassis mods. All tabs have been removed. The rear tail section will be removed, and a new aluminum one to replace it. There is an oval-shaped cross member that sits above the carburetors that need to be moved or replaced in a forward position. When installing larger carbs, the cross member will be in the way. I replaced that tube with a round chromoly tube and positioned it 2" forward. This allows even the largest 40 mm carbs to clear without any issues.
Below are pictures of the frame section that has been modified. The picture on the right is the OEM one.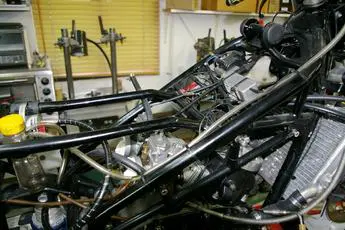 Extensive cylinder modifications need to be done to get the correct transfer port area and angle to run a flat top piston, create the 6 transfer ports and the 2 boost ports that will eventually be formed by welding and hand grinding. CNC-machined drop-in cylinder liners will come at a later time. Plans are to machine the OEM cylinder to accept a custom aluminum sleeve. Once the transfers and intake ports are done, I will machine the power valve and cylinder to add 2 auxiliary exhaust ports that will work with the power valve system. Next is to weld on a larger flange to the intake area. This will allow a much larger reed cage to be used. The intake area will be increased by over 50%. A Delta V force reed cage for a Yamaha YZ 250 is used. Custom billet TDR manifold to accept up to 40 mm carbs. Yes, they are very Ugly, right, but when the final machining is done, they will look almost OEM.